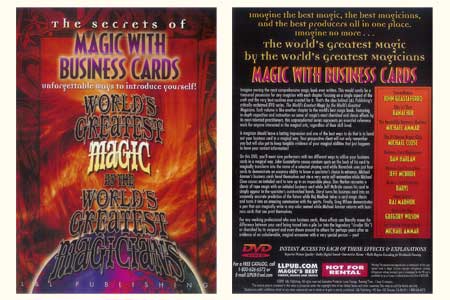 Descripción
Si vous ne deviez posséder qu'une seule collection de DVD sur la magie ce serait celle-ci !Cette collection de référence reprend les meilleurs effets et routines de la magie.C'est un fabuleux recueil dans lequel de nombreux maîtres magiciens vous apprennent leurs mouvements et routines pour quelques classiques de la magie.Anneaux chinois, balles éponges, torsion du métal, balles et gobelets, faux pouces, zombie, canifs caméléons et de très nombreux autres sujets sont tous abordés dans cette impressionnante collection de DVD de référence.Chaque volume couvre un sujet spécifique et vous proposes quelques morceaux modernes, anciens et d'anthologie des meilleures vidéos de la magie.

Un magicien peut laisser une dernière impression et une des meilleures façons de le faire est de distribuer sa carte de visite d'une manière un peu particulière. Le spectateur se souviendra de vous non seulement grâce à votre carte mais également grâce à votre performance.

Dans ce DVD, vous retrouverez 9 magiciens utilisant de 10 façons différentes la carte de visite.

John Guastaferro tache le dos de sa carte de visite pour ensuite y faire apparaître le nom d'une carte choisie tandis que Banachek utilise seulement 4 cartes pour montrer son étonnante capacité à connaître le choix d'un spectateur en avance.
Jeff Mc Bride fait simplement apparaître sa carte dans la main tendue d'un spectateur, Michaël Ammar présente des cartes qui s'impriment toutes seules…

AU SOMMAIRE :


Constellation de John Guastaferro

This'n'That de Banachek

The Incredible Business Machine de Michaël Ammar

The El Cheepo Magic Club de Michaël Close

Business Card Nightmare de Dan Harlan

Business Card Connection de Jeff Mc Bride

Business Card Prophecy de Daryl

Piano Séance de Raj Madhock

Multi-Color Pen de Gregory Wilson

Self-Printed Business Cards de Michaël Ammar

Langue : anglais – Durée : 1h06 min.
Volver al catálogo