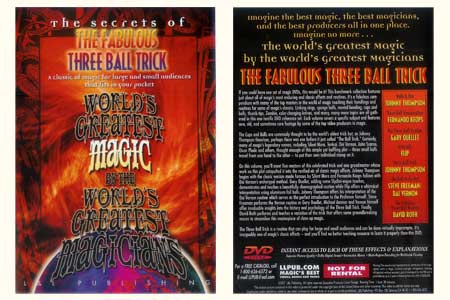 Descripción
Si vous ne deviez posséder qu'une seule collection de DVD sur la magie ce serait celle-ci !Cette collection de référence reprend les meilleurs effets et routines de la magie.C'est un fabuleux recueil dans lequel de nombreux maîtres magiciens vous apprennent leurs mouvements et routines pour quelques classiques de la magie.Anneaux chinois, balles éponges, torsion du métal, balles et gobelets, faux pouces, zombie, canifs caméléons et de très nombreux autres sujets sont tous abordés dans cette impressionnante collection de DVD de référence.Chaque volume couvre un sujet spécifique et vous proposes quelques morceaux modernes, anciens et d'anthologie des meilleures vidéos de la magie.

La routine des gobelets et balles magiques (Cups and Balls) est généralement considérée comme le plus ancien tour de magie, mais selon la théorie de Johnny Thompson, peut être qu'un autre tour appelé « le tour de la balle » aurait existé avant. Des magiciens légendaires tel que Silent Mora, Tenkai, Dai Vernon, John Scarne, Oscar Pladic et bien d'autres y avait pensé, 3 petites balles voyageant d'une main à l'autre.

Dans ce DVD, vous retrouverez 5 maîtres de ce tour très célèbre et un grand maître qui a su grâce à son travail sur ce tour, le placer au rang des tours rares et intense.

Johnny Thompson commence avec la fameuse version de Silent Mora et Fernando Keops suivi de l'excellente méthode de Dai Vernon.
Flip offre une interprétation saugrenue en utilisant des balles en papier aluminium.
Johnny Thompson réalise son interprétation de la routine de Dai Vernon qui introduit à merveille le Professeur lui-même.
Steve Freeman réalise la routine de Dai vernon comme Gary Ouellet, Michaël Ammar et Vernon lui-même offre un aperçu inestimable de l'histoire et de la psychologie et des gobelets et balles magiques.
Enfin, David Roth accompli et enseigne une variante du tour totalement novatrice de ce chef-d'œuvre du close-up.

La routine des 3 balles peut être faites devant un large public ou au contraire devant peu de gens, c'est un grand classique et vous ne trouverez pas meilleure ressource pour apprendre ce tour que ce DVD.

AU SOMMAIRE :


Balls and Net de Johnny Thompson

Three Ball Transposition de Fernando Keops

Three Ball Routine de Gary Ouellet

Asteroids de Flip

Three Ball Trick de Johnny Thompson

The Balls in the Net de Steve Freeman et Dai Vernon

The Fabulous Three Ball Routine de David Roth

Langue : anglais – Durée : 1h28 min.

Volver al catálogo