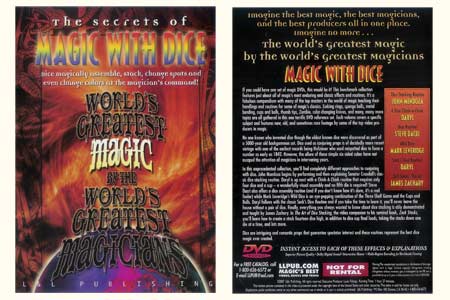 Descripción
Si vous ne deviez posséder qu'une seule collection de DVD sur la magie ce serait celle-ci !Cette collection de référence reprend les meilleurs effets et routines de la magie.C'est un fabuleux recueil dans lequel de nombreux maîtres magiciens vous apprennent leurs mouvements et routines pour quelques classiques de la magie.
Anneaux chinois, balles éponges, torsion du métal, balles et gobelets, faux pouces, zombie, canifs caméléons et de très nombreux autres sujets sont tous abordés dans cette impressionnante collection de DVD de référence.Chaque volume couvre un sujet spécifique et vous proposes quelques morceaux modernes, anciens et d'anthologie des meilleures vidéos de la magie.

Personne ne sait qui est l'inventeur des dés bien que les plus vieux dés découverts à ce jour soient ceux d'un jeu de backgammon vieux de 5000 ans.
Mais ce dont on est sûr c'est que de tout temps ces petits cubes ont fait réfléchir et inspiré les magiciens.

Dans cette collection de DVD sans précédent vous trouverez des approches complètement différentes de la magie des dés.
Tout d'abord John Mendoza réalise et explique la célèbre routine de l'empilage de dés du Sénateur Crandall. Viens ensuite Daryl avec la routine Chink-a-Chink qui nécessite seulement 4 dés et un gobelet, une superbe routine très visuelle sans qu'un 5ème dé ne soit nécessaire !
Le Wild Dice de Mark Leveridge est une combinaison du Three Shell Game et du Cups and Balls.
Daryl prend le relais avec le classique «Sack's Dice Routine » et si vous prenez le temps d'apprendre ce tour, vous ne sortirez plus jamais de chez vous sans une paire de dés.
Enfin, tout ce que vous aurez toujours voulu savoir sur l'empilage de dés est habilement transmis par James Zachary.

AU SOMMAIRE :


Dice Stacking Routine de John Mendoza

4 Dice Chink-aChink de Daryl

Dice Routine de Steve Dacri

Wild Dice de Marl Leveridge

Sack's Dice Routine de Daryl

Zack Stacks – The Act de James Zackary

Langue : anglais – Durée : 1h27.

Volver al catálogo