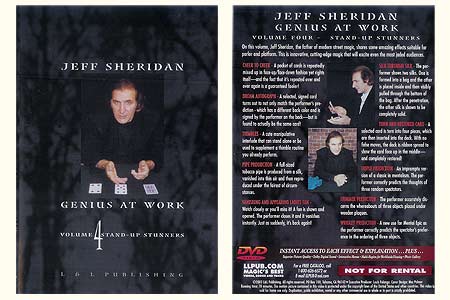 Descripción
Dans ce volume, Jeff SHERIDAN partage quelques effets étonnants appropriés au salon. Volume 4.


AU SOMMAIRE :


Cheek To Cheek

Un paquet de cartes est mélangé et retourné à plusieurs reprises. Les cartes se retrouvent face en bas, sauf la ou les cartes choisies.


Dream Autograph

La prédiction du magicien correspond à la carte choisie et signée – dont le dos a une couleur différente et est signée au dos par le magicien – mais il se trouve qu'il s'agit effectivement de la même carte !


Thimbles

Un petit interlude de manipulation qui peut être utilisé seul ou en supplément à une routine de dés à coudre que vous avez déjà effectué.


Pipe Production

Une pipe apparaît d'un foulard, puis disparaît dans les airs pour finalement réapparaître.


Vanishing and Appearing Ladies Fan

Un éventail est montré et ouvert. Le magicien le ferme et il disparaît instantanément. Mais soudain, il réapparaît !


Silk Through Silk

Le magicien montre deux foulards. Il donne la forme d'un sac à l'un deux et place l'autre à l'intérieur pour le faire passer à travers le fond du sac. Après la pénétration, l'autre foulard est montré complètement solide.


Torn And Restored Card

Une carte est déchirée en quatre morceaux, puis placée dans le jeu. Le jeu est dispersé face en bas et la carte choisie se retrouve au milieu face en haut, et complètement restaurée !


Triple Prediction

Une version impromptue d'un classique du mentalisme. Le magicien prédit correctement les pensées de trois spectateurs choisis au hasard.


Hummer Prediction

Le magicien discerne l'emplacement de trois objets placés sous des plaques en bois.


Wrigley Prediction

Le magicien prédit correctement la préférence d'un spectateur parmi trois objets.


Langue : anglais - Durée : 1h18 min.


Volver al catálogo