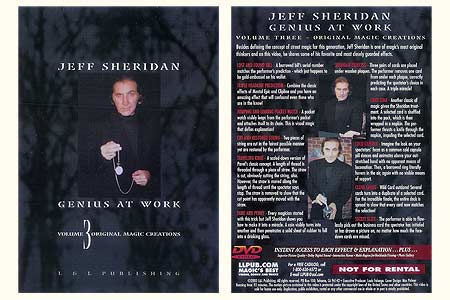 Descripción
Jeff SHERIDAN est l'un des magicien les plus originaux, et sur cette vidéo, il partage avec vous quelques-uns de ses effets favoris les plus secrets.


AU SOMMAIRE :


Lost And Found Bill

Le numéro de série d'un billet emprunté correspond à la prédiction du magicien.


Triple Headline Prediction

Mélangez les classiques 'Mental Epic' et 'Clipline' et vous obtiendrez un effet étonnant qui rendra tout le monde perplexe !


Jumping And Linking Pocket Watch

Une montre de poche saute de la poche du magicien et s'attache elle-même à sa chaîne. Un effet très visuel !


Cut And Restored String

Deux morceaux d'un fil sont coupés d'une façon qui paraît la plus honnête possible, pour ensuite être recollés par le magicien.


Traveling Knot

Un fil est enfilé dans un morceau de paille. La paille est coupée, le fil à l'intérieur l'est aussi, évidemment. Pourtant, le magicien fait bouger la paille sur la longueur du fil jusqu'à ce que le spectateur l'arrête. La paille est enlevée pour prouver que le point de coupe s'est apparemment déplacé avec la paille.


Dime And Penny

Tous les magiciens ont débuté avec ce tour, mais Jeff Sheridan vous montre comment le transformer en mircale. Une pièce se changent visuellement en une autre puis pénètre un feuillet de caoutchouc pour tomber dans un verre.


Sheridan Princess

Trois paires de cartes sont placées sous des plaques en bois. Le magicien enlève une carte d'en-dessous chaque plaque, chacune étant celle choisie au préalable par un spectateur. Un triple miracle !


Card Stab

Encore un classique de la magie remanié par Sheridan. Une carte choisie est perdue dans un paquet, qui est ensuite emballé dans une nappe. Le magicien enfonce un couteau dans la nappe, et transperce la carte choisie.


Cold Capsule

Imaginez la tête de vos spectateur alors q'un cachet danse et s'anime au-dessus de votre main tendue. Ensuite, une bague empruntée lévite dans les airs.


Clone Cards

Quelques cartes se transforment en la carte choisie. Au final, toutes les cartes du jeu sont devenues identiques à celle-ci !


Secret Slate

Le magicien est capable de retrouver la carte marquée par le spectateur, qu'importe comment les cartes ont été mélangées.



Langue : Anglais - Durée : 1h22 min


Volver al catálogo