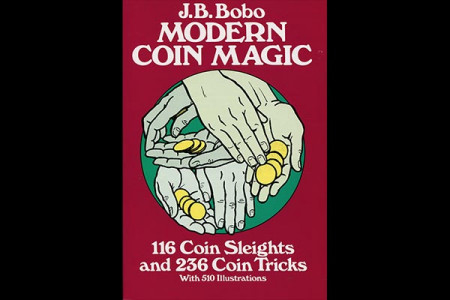 Descripción
116 manipulations de pièces et 236 tours de pièces
Lorsque vos invités vous demandent de faire quelques tours, soyez préparé.Empruntez une pièce et réalisez l'un des tours de ce livre. Comme vous n'utilisez aucun appareil extérieur comme vous le feriez sur scène
les résultats seront des plus surprenants
. Etant donné que les tours de pièces s'improvisent facilement, ils font parties des illusions les plus impressionnantes. Cet ouvrage est le traité le plus complet jamais écrit sur l'art des manipulations de pièces.Le célèbre magicien
J.B. Bobo
a ici réuni le meilleur des tours les plus utiles, dont les siens mais également ceux de douzaines de prestidigitateurs de renom, notamment
Robert-Houdin, Professor Hoffmann
et le meilleur des manipulateurs de pièces,
T. Nelson Downs
.Toutes les techniques prouvées et traditionnelles sont présentes dans cet ouvrage. Bobo les a agrémenté des innovations les plus modernes tout en éliminant les manipulations obsolètes et peu pratiques. Vous apprendrez tout sur les techniques d'
empalmages, de tenues, de retournements, de changes, d'échanges, de subtilisations, de mises en manche
; des tours avec des gimmicks particuliers sont également inclus dans ce livre. L'auteur vous guidera systématiquement depuis les techniques de bases, dissimulations et disparitions, en passant par des tours indépendants jusqu'aux routines complètes (18 en tout).
Ses explications détaillées sont agrémentées de 510 illustrations.
La magie de manipulation a toujours forcé le respect des magiciens professionnels. Si vous êtes
simple amateur
, ce manuel simple à utiliser combiné à une pratique régulière vous assure un moyen fiable d'atteindre un niveau de pratique digne d'un professionnel. Pour les
professionnels
, cet ouvrage est une référence encyclopédique qui rassemble en un seul libre le meilleur de la magie des pièces, depuis l'antiquité jusqu'à nos jours.
Au sommaire :
I Coin concealments: palms, holds, clipsII Basic technique: switches, flips, change-over, stealsIII Coins vanishesIV Complete coin vanishes: palm, pocet, sucker, hanks, envelopeV Quick tricks: 27 tricksVI CuffingVII The art of sleevingVIII Coin acrossXI Coin classics: 34 tricksX Coin boxesXI Trick coin trickery: 27 tricksXII Shell and folding half: 18 tricksXIII Stage coin magi: 5 tricksXIV The miser's dream: Rober Houdini, Downs, Harrison, WhitefordXV The Stanley Collins sectionXVI Routines: 18 routines coin acts
Langue
: Anglais,
353
pages illustrées.
Volver al catálogo