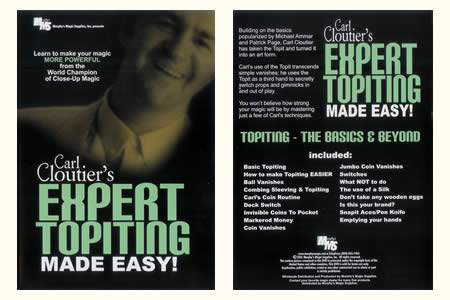 Descripción
Apprenez des techniques spéciales et peu utilisées du
grand champion du monde de la magie en close up Carl Cloutier !
S'appuyant sur les bases popularisée par Michael Ammar et Patrick Page, Carl s'est servit de cet outil incontournable appelé Topit et l'a transformée en une forme d'art, après l'avoir exploité à fond.
Carl utilise aussi bien le Topit pour des
simples disparitions
où l'on montre immédiatement les mains vides, comme pour des
transformations d'objets hyper visuelles.
En fait les topit de Carl jouent le rôle d'une troisième main invisible qui garde des objets secrètement et en donne d'autres.
Maîtriser cet outil est le rêve du magicien car on ne peut faire plus propre !
Vous n'en reviendrez pas de la dimension que prendra votre magie grâce à la maîtrise de quelques-unes des techniques de Carl !



Au Sommaire :
- Basic Topiting
- How to make Topiting EASIER
- Ball Vanishes
- Combing Sleeving & Topiting
- Carl's Coin Routine
- Deck Switch
- Invisible Coins To Pocket
- Markered Money
- Coin Vanishes
- Jumbo Coin Vanishes
- Switches
- What NOT to do
- The use of Silk
- Don't take any wooden eggs
- Is this your brand?
- Snapit Aces/Pen Knife
- Emptying your hands
Nombreuses applications
Nombreuses techniques
DVD en Anglais
Durée : 59 min
Volver al catálogo