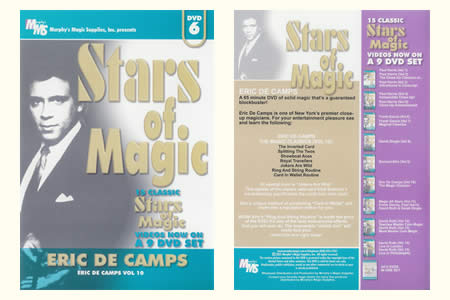 Descripción
Apprenez quelques uns des grands classiques de l'illusion avec les plus grandes étoiles de la magie : Paul Harris, Frank Garcia, Derek Dingle, Bernard Bilis, Eric De Camps, et David Roth !
Volume 6 : Eric De Camps

Un DVD consistant, un vrai best-seller ! Eric De Camps est un des premiers magiciens de close-up de new york. Admirez pour vous divertir et apprenez ce qui suit.

Au sommaire :


ERIC DE CAMPS - THE MAGIC CLASSICS
- The Inverted Card
- Splitting The Twos
- Showboat Aces
- Royal Travelers
- Jokers Are Wild
- Ring And String Routine
- Card In Wallet Routine

PS: « Jokers Are Wild ». Cette mise à jour du tour de cartes a un résultat époustouflant lorsque les cartes se transforment en argent !
La méthode particulière d'Eric de présenter la « Card In Wallet » vous permettra de construire votre réputation.


Langue
: Anglais,
Durée
: 1h05
Volver al catálogo