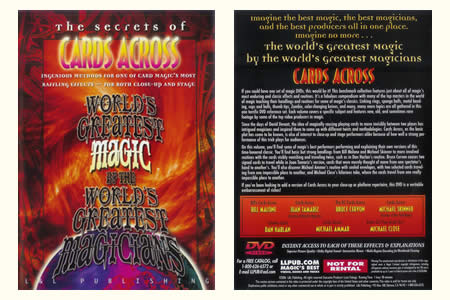 Descripción
Si vous deviez posséder une seule collection de DVD sur la magie ce serait celle-ci !
Cette collection de référence reprend
les meilleurs effets et routines de la magie.
C'est un fabuleux recueil dans lequel de nombreux maîtres magiciens vous apprennent leurs mouvements et routines pour quelques classiques de la magie.
Anneaux chinois, balles éponges, torsion du métal, balles et gobelets, faux pouces, zombie, canifs caméléons et de très nombreux autres sujets sont tous abordés dans cette impressionnante collection de DVD de référence.
Chaque volume couvre un sujet spécifique et vous proposes quelques morceaux modernes, anciens et d'anthologie des meilleures vidéos de la magie.
Depuis l'époque de David Devant, le concept permettant de faire voyager de façon invisible des cartes d'un endroit à l'autre a intrigué et surtout inspiré les magiciens leur permettant ainsi de développer leurs propres mouvements et méthodes.
Cards Across, tout comme les trames de base se devant d'être connues, constitue un intérêt certain pour les magiciens de scène comme de close-up du fait de l'importance de l'impact sur le public.
Vous pourrez ainsi admirer dans ce volume quelques uns des
meilleurs magiciens présenter et expliquer leur propre version
de cet éternel classique de la magie.
Vous trouverez des manipulations de bases aux effets surprenants de
Bill Malone
et de
Michael Skinner
ainsi que des routines plus élaborées dans lesquelles les cartes disparaissent puis voyagent comme dans la routine de
Dan Harlan
.
Bruce Cervon
fera voyager deux cartes signées alors que
Juan Tamariz
fait voyager les cartes de la main d'un spectateur dans la main d'un autre spectateur.
Vous pourrez également découvrir la routine de
Michael Ammar
avec des enveloppes scellées dans laquelle deux cartes choisies voyagent d'un endroit à l'autre, ainsi que la routine de
Michael Close
dans laquelle les cartes voyagent de façon improbable d'un endroit à l'autre.
Si vous souhaitez ajouter de nouvelles versions à votre répertoire, ce DVD est une véritable mine d'or !
Au sommaire :


JUAN TAMARIZ
- Cards Across (Courtesy of Murphy's Magic Inc)


BRUCE CERVON
- The BC Cards Across


MICHAEL SKINNER
- Cards Across (Courtesy of Meir Yedid Magic)


DAN HARLAN
- Counter Cross


MICHAEL AMMAR
- Cards Across


MICHAEL CLOSE
- Butte Ox? Two Butte Ox!



Langue
: Anglais,
Durée
: 1h38.
Volver al catálogo