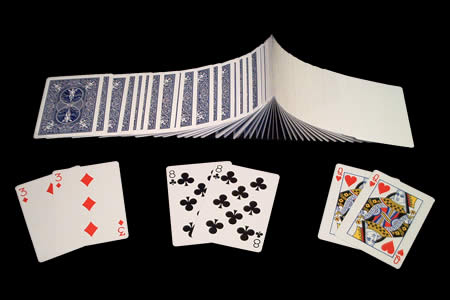 Description
Si vous souhaitez arracher des cris d'étonnement de la part de votre public, il suffit de vous procurer ce tour génial créé par Dominique Duvivier.
Vous sortez votre jeu de cartes, ainsi qu'un petit paquet de cartes blanches que vous laissez de côté dans un premier temps.
Vous demandez à un spectateur de couper librement le jeu en 3 paquets. La première carte de chacun des trois paquets est alors retournée.
Vous attirez l'attention du public sur les cartes blanches que vous montrez et que vous posez sur les 3 cartes sélectionnées par le spectateur.
« Croyez-le ou non, mais ces cartes sont magiques… » Vous retournez chacune des cartes blanches ; elles ont maintenant
la valeur de chaque carte choisie préalablement !
Cet effet est tellement fort que vous vous proposez de le refaire une seconde fois… Stupeur…
Toutes les cartes de votre jeu sont maintenant totalement blanche.
Un tour parfaitement structuré, terriblement efficace et très simple à réaliser car il ne nécessite aucune technique compliquée.
Toutes les cartes nécessaires sont fournies.

Qualité Bicycle.



Return to the catalogue


We advise you with this product :
1.
Automatic Wild Cards
10 €