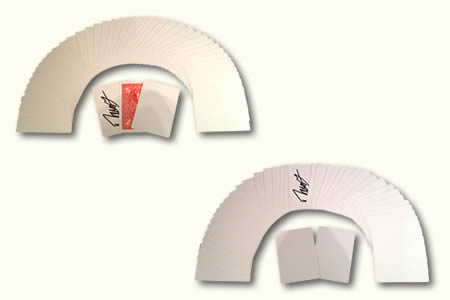 Description
Vous mettez de côté une carte blanche et une carte à dos.
Vous sortez un jeu de cartes blanc des deux côtés.
Le spectateur choisit une carte dans ce jeu et la signe. Cette carte est placée face en bas sur la table.
Vous montrez les deux cartes mises de côté et faites disparaître la carte à dos : il ne vous reste donc plus qu'une carte en main, blanche des deux côtés.
Vous retournez la carte signée :
la signature a disparu !
Vous étalez alors le jeu en ruban, et un
dos apparaît dans le jeu blanc.
Vous sortez cette carte :
elle porte la signature du spectateur !
Tout est alors donné à examiner.
Qualité Bicycle.



Return to the catalogue


We advise you with this product :
1.
Voyage impossible II
17 €

2.
Voyage impossible III
20 €