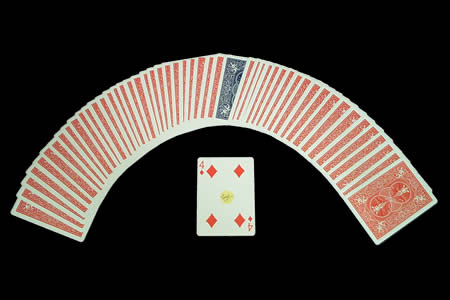 Description
Vous sortez de son étui un jeu rouge que vous étalez en ruban face en bas sur la table.
Puis vous éventaillez les cartes faces vers vous, pour que le spectateur choisisse n'importe quelle carte du jeu dont il signe la face avant de la replacer dans le jeu.
Vous prononcez votre formule magique favorite et étalez le jeu en ruban face en bas sur le tapis. Parmi les cartes à dos rouge, apparaît alors une carte à dos bleu.
Vous la sortez du jeu, la retournez, et la donnez au spectateur. C'est bien la carte qu'il avait choisie et signée : elle possède maintenant un dos différent... et peut être examinée à loisir !!!
Qualité Bicycle




Return to the catalogue


We advise you with this product :
1.
Voyage impossible I
17 €

2.
Voyage impossible III
20 €