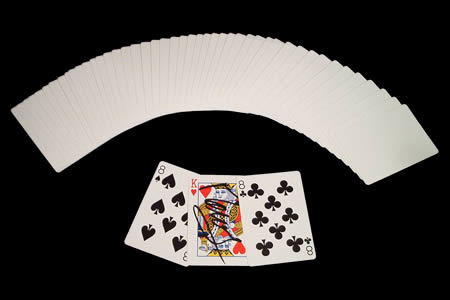 Description
Vous faites choisir une carte dans un jeu à dos bleu et vous vous proposez de retrouver cette carte dans un autre jeu, mais à dos rouge. Vous ne vous contentez pas de le dire, vous le faites !
Cette carte est alors signée par le spectateur et perdue dans le jeu. Aussi incroyable que cela puisse paraître,
c'est le spectateur qui va retrouver lui-même sa carte dans le jeu face en bas !
Encore plus étonnant, vous allez
effacer la signature ainsi que la face de la carte
du spectateur d'une façon très nette. La carte devient entièrement blanche !
Pour re-matérialiser cette carte, il suffit de faire une passe magique sur le jeu et la carte signée réapparaît face en l'air, en sandwich entre deux dames : la dame de cœur et la dame de carreau.
En fait, vous n'y êtes pas pour grand-chose dans tous ces miracles car ce sont les dames qui font tout le travail ! Pratique d'avoir deux dames magiques dans son jeu…
Par contre, leur tache n'était pas vraiment difficile car, lorsque vous retournez les autres cartes, les spectateurs découvrent avec stupéfaction qu'elles sont
toutes complètement blanches !
Un vrai déluge magique

Cartes au format Bicycle

Ce tour ravira les magiciens aimant la manipulation, sans que celle-ci soit d'un niveau insurmontable.


Return to the catalogue


We advise you with this product :
1.
Mental Photography Deck+DVD
16.5 €