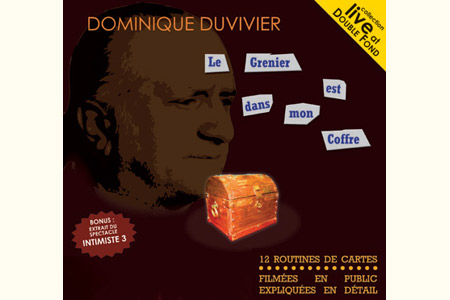 Description
Le nouvel Opus de Dominique Duvivier (Coffret double DVD) !
Quel impact ont réellement ces routines sur un vrai public ? Voyez vous-même : tout est tourné en public. Et les réactions ne laissent aucun doute : c'est de la dynamite ! Que des cartes ? Oui, pourtant c'est du grand spectacle.
Dominique Duvivier vous dévoile des routines qui ont bâti son succès au cours de centaines de représentations au Double Fond. Vous qui aimez les secrets, vous ne serez pas déçus. Certaines créations jusqu'alors réservées à quelques privilégiés sont révélées ici, rien que pour vous.



Au Sommaire :
- Coupe Diabolique
- Les 4 As Garcia/Duvivier
- Musique Des Doigts
- Conférence Tripartite
- Mains Heureuses
- La Triple Face
- «Comme Hamman»
- L'empreinte
- Toulagli
- Open Prediction Bicycle
- Open Prediction "Double"
- Carte Folle "Fruit d'Or"
12 routines testées et tournées en live
Collection Live at double Fond
Bonus : Extrait du spectacle intimiste 3
DVD bilingue français/anglais
Une création Dominique Duvivier

Return to the catalogue





We advise you with this product :
1.
Melting Pot
45 €