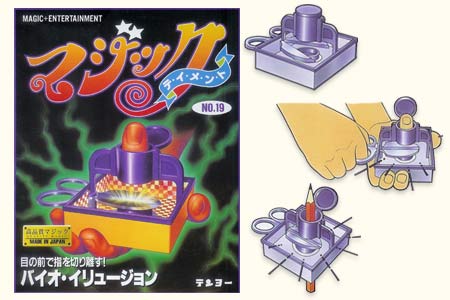 Description
Voici un jeu beaucoup plus fort que tous les autres jeux du même genre.
Votre public n'en croira pas ses yeux !
C'est un tour basique, sûr et basé sur une incroyable illusion d'optique !
Vous possédez
une boîte
avec
un tube
et contenant
une paire de ciseaux
.
Introduisez votre propre doigt dans la boîte et d'un coup de ciseaux, coupez-le en deux
.
Encore plus fort, vous pourrez
soulever le tube
dans lequel se trouve votre doigt pour prouver que
votre doigt est vraiment couper en deux
.
Vous pourrez également utiliser un stylo que vous auriez emprunté à un spectateur.

Return to the catalogue


We advise you with this product :
1.
Finger chopper
9.5 €