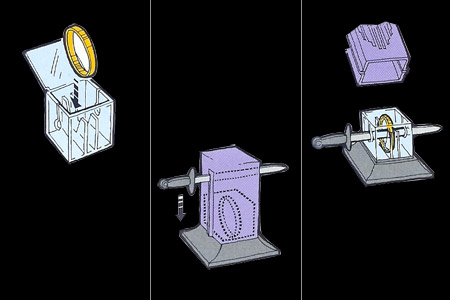 Description
Voici une
grande illusion
comme en en voit à la télévision, mais en
petit format
! Vous pourrez ainsi transporter ce tour incroyable facilement.
L'effet est splendide, vous avez un anneau (possibilité de l'emprunter), vous le placez à l'intérieur d'une boite transparente, puis vous posez cette boite sur un socle. Vous allez ensuite recouvrir la boite transparente par un cache deux fois plus haut que celle-ci, puis présenter une épée à vos spectateurs.
Cette épée, vous allez la placer tout en haut du cache, puis vous allez la descendre violemment. Lorsque vous ôtez le cache,
la lame de l'épée se trouve à l'intérieur de l'anneau
. Vous venez de
réaliser l'impossible
, traverser un anneau avec un autre matériau tout aussi solide.
C'est incroyable ! De plus, contrairement à la grande illusion, tout peut être
donné à examen
, aucun spectateur ne pourra trouver le fonctionnement de ce tour mystérieux !
Très bon tour
Très facile à faire
Peut se faire avec un anneau emprunté
Possibilité de l'utiliser en close up après une routine de voyage d'anneaux

Return to the catalogue


We advise you with this product :
1.
Ring Escape
29.5 €