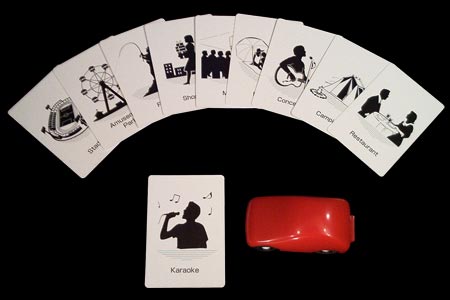 Description
Invitez un spectateur à
choisir une carte dans un jeu
et à s'en souvenir.
Mélangez le jeu puis demandez au spectateur de remettre la carte dans le jeu.
Etalez le jeu de cartes tarot sur le dessus.
Posez la
petite voiture
sur la table et demandez au spectateur de la pousser le long du ruban de cartes.
La voiture s'arrête d'elle-même
. Séparez ces cartes du reste du jeu et étalez-les les une à côté des autres.
Répétez la même opération
qu'auparavant en invitant le spectateur à pousser la voiture devant les cartes restantes, la voiture s'arrête devant une carte cette fois.
Retournez la carte…il s'agit bien de la carte choisie par le spectateur !
Une autre routine est possible avec les cartes illustrées
.
Mini voiture et une boîte pour ranger la voiture lorsqu'elle n'est pas utilisée fournies.
10 cartes illustrées fournies.
Instructions en anglais et en français.
Voiture examinable.

Return to the catalogue


We advise you with this product :
2.
Carte à l'épée (Tora)
78 €