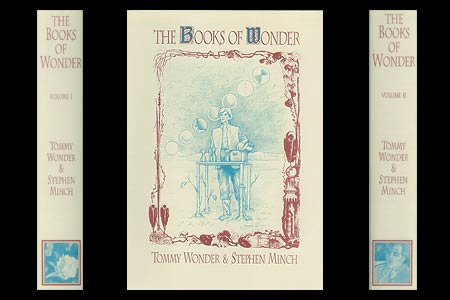 Description
Ces
deux superbes volumes
de Tommy Wonder sont à posséder absolument.
Tommy Wonder
est sans doute le magicien le plus respecté dans le monde de nos jours, largement reconnu comme un
maître du close-up et de la scène
.
Vous trouverez dans ces livres toute une
série de tours, de routines et d'essais
.
Il y explique également ses
routines professionnelles pour le close-up.

Vous trouverez des chapitres consacrés au close-up avec des cartes ou des pièces
et une sélection de
tours très originaux
.
D'autres chapitres traiteront du close-up avec d'autres objets que des cartes ou des pièces et comprend de perspicaces remarques concernant les
problèmes
que l'on peut rencontrer
lors d'un spectacle
, comme par exemple comment s'approcher des tables, comment se présenter soi-même et sa routine, faut-il rester debout ou s'asseoir, comment évoluer dans un environnement bruyant…
AU SOMMAIRE

VOLUME 1 :
Chapitre 1 : Attention-Getting Devices
Chapitre 2 : Travel Tales of Mr. Pip
Chapitre 3 : The Tamed Card
Chapitre 4 : Presentations in Silver
Chapitre 5 : Group Encounters
Epilogue : Ouroboros
VOLUME 2 :
Chapitre 1: In the Trenches
Chapitre 2 : Acetabula et Calculi
Chapitre 3 : Finger Sprints
Chapitre 4 : Department of Utilities
Chapitre 5 : Mechanical Marvels
Pour plus de détail sur les chapitres reportez-vous aux fiches de chaque volume.
Langue :
anglaise –
plus de 600 pages illustrées
.

Return to the catalogue