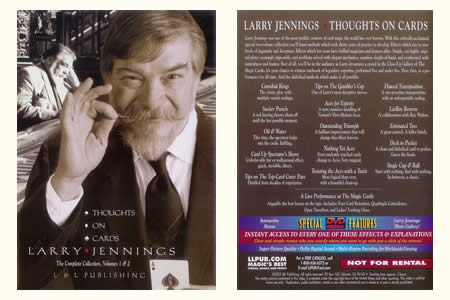 Description
Larry JENNINGS
fut l'un des créateurs de tours de cartes les plus prolifiques que le monde ait jamais connu. Grâce à cette collection de deux volumes, vous apprendrez les méthodes qu'il a mis 30 ans à développer. Des effets qui dépassent tous les niveaux de l'ingéniosité et de la tromperie. Des effets qui, pendant des années, ont bluffé même des magiciens.
AU SOMMAIRE :
Cannibal Kings
Le tour classique, avec des disparitions finales multiples.


Sucker Punch
Oil & Water
Cette fois-ci, le spectateur aide à mélanger les cartes. Bluffant.


Card Up Spectator's Sleeve
Un effet incroyable. Rapide, invisible, direct.


Tips on the top-card cover pass
Le résultat de décennies d'expérience.


Tips on the Gambler's Cop
Un des mouvements les plus trompeurs de Larry.


Aces of Experts
Une nouvelle manipulation de 'Slow-Motion Aces' de Vernon.


Outstanding Triumph
A brilliant improvement that will change this effect forever.


Nothing Yet Aces
Quatre cartes touchées au hasard se changent en As.


Twisting the Aces with a Twist
Plus logique que jamais, avec un beau nettoyage.


Flawed Transposition
Une transposition avec une fin inoubliable.


LarRoy Reverse
Une collaboration avec Roy WALTON.


Estimated Toss
Un grand contrôle. Un final de tueur.


Deck to Pocket
Un tour de carte dans la poche propre et diabolique. Devinez le final.


Single Cup & Ball
Un tour qui commence avec rien, et qui finit avec rien. En gros, un classique.


A Live Performance at the Magic Castle
La meilleure leçon de ce DVD. Comprend : Four Card Retention, Quadruple Coincidence, Open Travellers, and Ladies' Looking Glass.


Langue : Anglais.


Retour au catalogue
Cet article n'est
plus vendu sur Magicaplanet