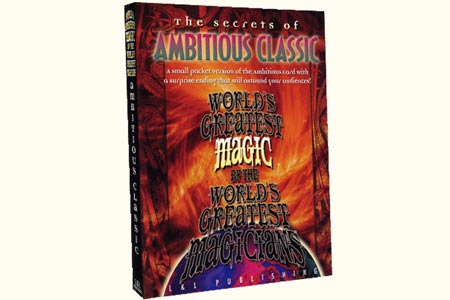 Descripción
¡Si solo pudieras tener una sola colección de DVDs, esta sería la ideal!Esta colección de referencia reúne
los mejores efectos y rutinas de la magia.
Es una fabulosa recopilación en la que numerosos maestros magos te enseñarán los pases, movimientos y rutinas de algunos clásicos de la magia.Aros chinos, bolas de esponja, torsión de metales, bolas y cubiletes, falso pulgar, bola zombie, navajas camaleón y muchos otros temas que son abordados en esta impresionante colección de DVDs de referencia.
Cada volumen trata de un tema especifico y te propone algunas sutilezas modernas, antiguas o antológicas de los mejores videos de la magia.
¡En este volumen encontrarás numerosas ideas y mejoras del célebre juego de la carta que siempre sube (la carta ambiciosa), propuestas por numerosos magos!
Sumario:Ambitious Classic
- LARRY JENNINGS
The Ambitious Classic Revisited
- JAMES SWAIN
Too Many Cards
- DEREK DINGLE
Ambitious classic
- MICHAEL AMMAR
A Matter of Psychology
- BRUCE CERVON
Hay un rumor que dice que la carta ambiciosa es el juego más mágico que se puede hacer con una baraja de cartas. Con este DVD y las rutinas que propone, podrás hacer la mejor rutina ambiciosa posible.
Efecto visual
Fácil de realizar
Se puede hacer rodeado
Muchas rutinas para elegir
Ideal para hacer magia de mesa en mesa
DVD en inglés, explicado con todo detalle por los mejores magos
Duración: 53 min

Volver al catálogo