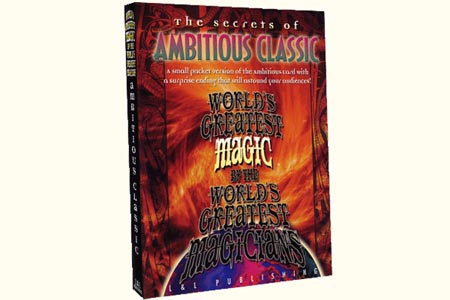 Description
Si vous ne deviez posséder qu'une seule collection de DVD sur la magie ce serait celle-ci !Cette collection de référence reprend
les meilleurs effets et routines de la magie.
C'est un fabuleux recueil dans lequel de nombreux maîtres magiciens vous apprennent leurs mouvements et routines pour quelques classiques de la magie.Anneaux chinois, balles éponges, torsion du métal, balles et gobelets, faux pouces, zombie, canifs caméléons et de très nombreux autres sujets sont tous abordés dans cette impressionnante collection de DVD de référence.
Chaque volume couvre un sujet spécifique et vous proposes quelques morceaux modernes, anciens et d'anthologie des meilleures vidéos de la magie.
Dans ce volume vous trouverez de nombreuses reprises et améliorations du célèbre tour de la carte qui remonte sur le dessus du jeu (la carte ambitieuse) avec un petit paquet, proposées par de très nombreux magiciens !
Au programme :Ambitious Classic
- LARRY JENNINGS
The Ambitious Classic Revisited
- JAMES SWAIN
Too Many Cards
- DEREK DINGLE
Ambitious classic
- MICHAEL AMMAR
A Matter of Psychology
- BRUCE CERVON
La rumeur dit que la carte ambitieuse est certainement le tour le plus magique qui soit réalisable avec une jeu de cartes. Avec ce DVD et les routines qu'il propose, vous ne serez jamais en reste pour faire remonter la carte du spectateur sur le dessus du jeu.
Effet visuel
Facile à réaliser
Faisable entouré
Plusieurs routines réalisables
Idéal pour le table à table
DVD en anglais expliqué en détails par les meilleurs magiciens
Duréé : 53 min

Retour au catalogue