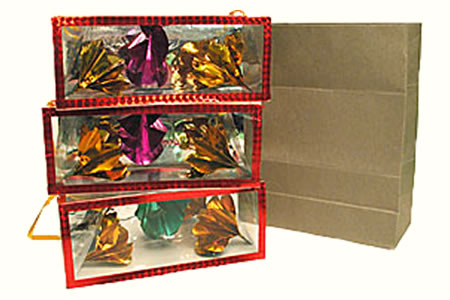 Description
Vous présentez un simple sac en papier bleu, et vous en montrez même l'intérieur . Pas d'erreur : il est bien vide. Une passe magique... vous plongez la main à l'intérieur et en retirez une boîte transparente contenant deux fleurs !
Vous montrez à nouveau l'intérieur du sac : il est toujours vide.
Vous plongez encore une fois la main à l'intérieur, et vous en ressortez une autre boîte transparente, avec deux autres fleurs !
Le public voit encore le fond du sac : toujours vide !
Allez-vous renouveler l'exploit ? Eh bien, OUI ! Car votre main retire une TROISIÈME boîte transparente contenant deux autres fleurs colorées !
Cette fois c'est sûr, vous êtes un magicien de première grandeur !
"Dream bag" est un tour spectaculaire qui plaira à tous vos spectateurs.
Tour entièrement automatique : c'est le matériel qui se charge de tout... sauf de la présentation, qui ne dépend que de votre talent, bien sûr !


Vous pouvez l'exécuter aussi bien en close-up qu'en conditions de salon... et même entouré par votre public.

Dimensions : Sac : 20 x 8 x 21 cm, Boite à Fleur : 20 x 8 x 8 cm

Return to the catalogue


We advise you with this product :
1.
Super Aquarium Frame (Tora)
288 €