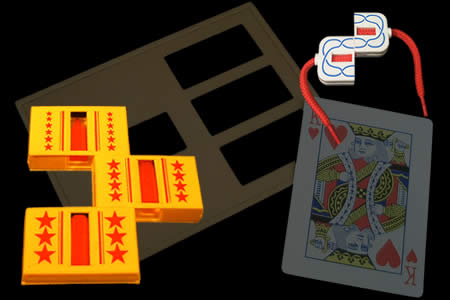 Description
This is
3 classic tricks for the young beginners
who want to amaze their friends.
Very easy
to perform, they will allow you to amaze a lot of people.
The tricks:
Give a pen for examination.
You place it in a box that the audience can sees.
You suddenly move the central part.
The pencil is now cut in 3 pieces that you give to the audience for examination.
After the examination, you put the pieces back into the box and you move the central part to its original position... the pencil is now an entire pen!!!
you give the pencil to the audience for examination.
There is no appearing cut on it!!!!
This trick is
as surprising as easy
to perform
Put the rope inside the boc and cut it into two part. Then restore it immediately.
To end,
give the rope to the audience for examination
in order to show it is an ordinary rope.
A very easy trick, perfect for young beginners.



This tricks is similar to the Zig Zag girl illusion but with a card.

You put a card in the frame and you push it untill it can be seen.

After a short story, you can move the central part and clearly show that the card is divided into three pieces.

Once the illusion performed, you restore the card in order to give it to the audience for examination.




Return to the catalogue


The items from this "Magic Set"
1.
Zig-Zag Card
9.5 €

2.
Zig-Zag Rope
6 €

3.
Zig-Zag Pen
6 €