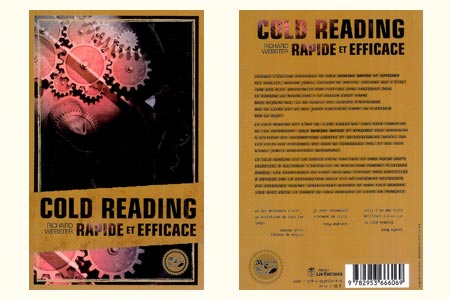 Description
Lorsque l'édition originale de Cold Reading rapide et efficace fut publiée, Bascom Jones, éditeur de Magick, déclara que c'était « Une des plus importantes publications sans précédent dans Le domaine du mentalisme. » Si Bascom était parmi nous aujourd'hui, il ne serait pas surpris d'apprendre que ce livre est de nos jours considéré comme un classique sur le sujet.
Le cold reading est l'art de « lire quelqu'un » sans rien connaitre de lui auparavant. Cold Reading rapide et efficace vous apprendra à délivrer des informations courtes et satisfaisantes basées sur les faits aux personnes que vous ne connaissez pas, et que vous n'avez jamais rencontrées auparavant.
Le cold reading est un savoir-faire pratique et sans aucun doute essentiel à quiconque s'intéresse au mentalisme. Pendant plusieurs années, les exemplaires du livre original étaient très difficiles à obtenir car la distribution avait été délibérément restreinte aux personnes voulant sérieusement devenir de bons cold readers. Vous avez enfin la chance de pouvoir vous procurer ce livre en français.
Livre en Français
Format 12 x 19 cm
144 pages
Couverture souple avec rabats

Return to the catalogue




We advise you with this product :
1.
Clipboard de mentaliste A4
24 €

2.
The Tommy Pad : Refill
16.5 €