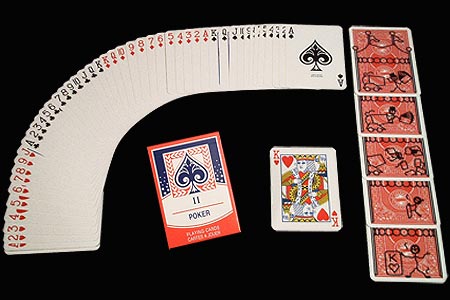 Description
Une carte est choisie dans un jeu, le jeu est bien mélangé. Trop à vrai dire... Si bien mélangé que vous en avez vous même perdu la carte choisie.
Pas de problème ! Votre jeu le retrouvera pour vous grâce à sa
petite animation
qui révèlera finalement la carte choisie.
Sur le dos est dessiné une scène avec un petit bonhomme coiffé d'un chapeau qui se tient debout, prêt à vous rendre service.
Lorsque vous effeuillez les cartes, le petit bonhomme se met en mouvement. Il ôte son chapeau et y plonge sa main pour en sortir bien évidemment la carte choisie.
Cet effet surprenant émerveillera les petits comme les grands.
Préparation rapide.

Aucun forçage, le choix du spectateur est totalement libre.

Jeu imprimé par Carta Mundi.



Return to the catalogue


We advise you with this product :
1.
Card-Toon II Deck
18 €