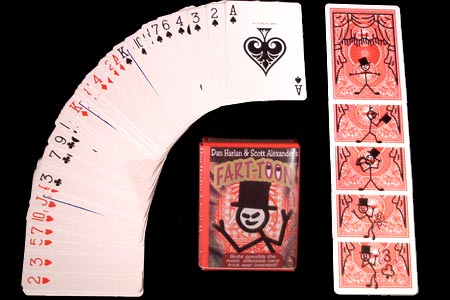 Description
Une carte est choisie dans un jeu, le jeu est bien mélangé. Trop à vrai dire... Si bien mélangé que vous en avez vous même perdu la carte choisie.
Pas de problème ! Votre jeu la retrouvera pour vous grâce à sa
petite animation
qui révèlera finalement la carte choisie d'une façon
extrêmement drôle
.
En effet, sur le dos est dessiné une scène avec un
petit bonhomme
coiffé d'un chapeau de magicien qui se tient debout, prêt à vous rendre service, mais également prêt à vous faire une blague.
Lorsque vous effeuillez les cartes, le petit
bonhomme se met en mouvement
.
Il ôte son chapeau et y plonge sa main pour en sortir non pas la carte choisie, mais tout simplement… un sandwich. Le bonhomme engloutit son mets d'un coup mais de cause à effet il
lâche un gros prout qui par en fumée
.
Mais ce n'est pas finit, le pet prend la forme petit à petit de la carte choisie par le spectateur. Le petit bonhomme quand à lui, se bouche le nez car l'odeur à l'aire insupportable.
Cet
effet surprenant fera rigoler les petits comme les grands
tout en gardant un côté mystérieux.
Préparation rapide
Aucun forçage, le choix du spectateur est totalement libre
Facile à réaliser
Effet très drôle
Idéal pour le close up pour petits et grands

Return to the catalogue


We advise you with this product :
1.
Cartoon BICYCLE Deck
19.5 €