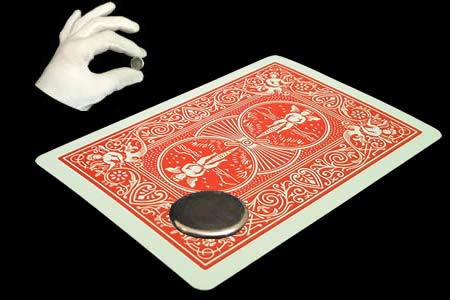 Description
Grâce à sa taille, cet aimant
se loge parfaitement derrière une pièce de 5 cents.
Prenez 3 pièces de 5 centimes d'euros et faites toucher la tranche de 2 d'entre elle; lâchez celle du bas et la magie opère.
La pièce va rester collée à l'autre.
Vous allez maintenant pouvoir
retenter l'expérience
en y ajoutant la troisième pièce. Vous allez même pouvoir toucher cette dernière pour qu'elle se mette à
tourner sur elle même.
Pour finir vous reprenez les 3 pièces dans la main et redonnez les directement à son propriétaire étonné.
Ce fabuleux aimant est fait en
néodyme une matière très puissante.
Sa taille suffira pour soulever un grands nombres de chose, ou pour vous magiciens,
de charger ou décharger simplement une paire de ciseaux, pièces,…Dimensions :
- Diamètre : 20 mm
- Epaisseur : 2 mm

Return to the catalogue


We advise you with this product :
1.
Magnetic Magic
30 €

2.
Wizard PK Ring - Gold (18 mm)
34.5 €

3.
BICYCLE Magnetic Card
8 €