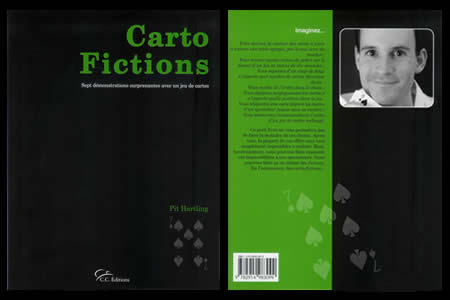 Description
Vous devinez la couleur des cartes à jouer à travers une table opaque, par la seul sens du toucher ;
Vous montrez quatre mains de poker sur le dessus d'un jeu en moins de dix secondes ;
Vous expulsez d'un coup de doigt n'importe quel nombre de cartes librement choisi ;
Ce petit livre ne vous permettra pas de faire la moindre de ces choses.
Après tout, la plupart de ces effets sont tout simplement impossibles à réaliser
. Mais, heureusement, nous pouvons faire ressentir ces impossibilités à nos spectateurs. Nous pouvons faire ça en créant des fictions. En l'occurrence, des carto-fictions …
AU SOMMAIRE :
Introduction

Finger Flicker
- Vous expulsez d'un coup de doigt n'importe quel nombre de cartes librement choisi


Master of the Mess
- Vous mettez de l'ordre dans le chaos


Méthode et Style – Le "Mode Représentation"

Colour – Sense
- Vous devinez la couleur des cartes à jouer à travers une table opaque, par le seul sens du toucher


High Noon
- Vous téléportez une carte depuis les mains d'un spectateur jusque sous sa montre


Cincinnati Pit
- Vous montrez quatre mains de poker sur le dessus d'un jeu en moins de dix secondes


Inciter aux challenges

Triple countdown
- Vous déplacez magiquement les cartes à n'importe quelle position dans le jeu


Unforgettable
- Vous mémorisez instantanément l'ordre d'un jeu de cartes mélangé.


Remeciement

Bibliographie


Format : 21,8 x 16,8 cm - 101 pages – Illustré




Return to the catalogue