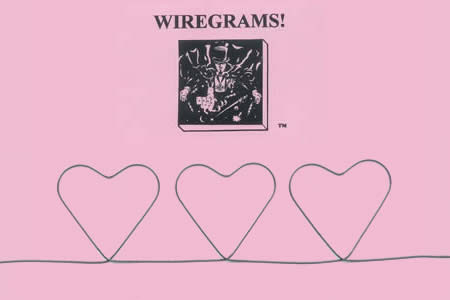 Description
Prenez un jeu de cartes et demandez à un spectateur de choisir une carte.
Mettez celle-ci de côté. Sortez alors un morceau de fil de fer de votre poche et enroulez-le autour de votre doigt, par exemple.
Ceci pour démontrer qu'il s'agit d'un morceau de fil de fer normal, et pourtant...
'Le fil de fer que je tiens entre mes doigts a un pouvoir surnaturel... '
Tendez le fil et passez-le par-dessus la carte choisie. Pour l'instant personne ne sait de quelle carte il s'agit.
Le fil de fer a capté les "ondes" de la carte. Montrez le fil au public et dites qu'il va dévoiler la valeur de la carte choisie.
Sortez un briquet de votre poche et passer le fil de fer à travers la flamme.
Le fil de fer commence à se tordre dans toutes les directions pour finalement et tout seul former le 3 de Coeur !!!
Retournez la carte choisie : il s'agit du 3 de Coeur !!!
Un grand classique que tout magicien doit avoir dans sa poche !


Livré avec le fil spécial qui vous permettra de faire ce tour des milliers de fois!



Un petit conseil qui saura donner encore plus d'impact à cette petite merveille : placez le fil de fer dans du papier flash (non fourni). Enflammez le tout et en moins de deux secondes un grand flash laisse apparaître le fil de fer formant alors la carte choisie.
Return to the catalogue


We advise you with this product :
2.
DVD Les Forçages
29.5 €