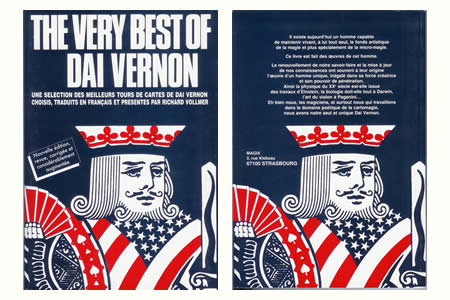 Descripción
Il existe aujourd'hui un homme capable de maintenir vivant, à lui tout seul, le fond artistique de la magie et plus spécialement de la micro-magie.
Ce livre est fait des œuvres de cet homme.
Le renouvellement de notre savoir-faire et la mise à jour de nos connaissances ont souvent à leur origine l'œuvre d'un homme unique, inégalé dans sa force créatrice et son pouvoir de pénétration.
Ainsi la physique du XXe siècle est-elle issue des travaux d'Einstein, la biologie doit-elle tout à Darwin, l'art du violon à Paganini…
Eh bien nous, les magiciens, et surtout nous qui travaillons dans le domaine poétique de la cartomagie, nous avons notre seul et unique
Dai VERNON
.
AU SOMMAIRE :
Card puzzle

L'Expert en Empreintes

Les Quatre As à Dos Bleu

Le Jeu qui Change de Couleur

Trahi par l'Emotion

Cocktail de Cartes

La Prédiction de la Carte Cornée

« Faites Comme Moi »

Le Signe des Quatre

L'Expert aux Cartes

Twisting the Aces

La Carte Pensée

Secrets

Transposition de Pensée

Pensez à un As

Mystère en Rouge et Noir

Mathématiques Elémentaires

L'Huile et l'Eau

Les Cartes Indicatrices

Les As Obéissants

« Faites Comme Moi » bissé

L'As Protée

Le Tricheur Ingénu

Loin des Yeux, Loin du Cœur

Epellation Carrée

Epellation Triangulaire

Les Cartes Calculatrices

Family Plot

La Prédiction Klondike

Le Bonneteau

Pensez à une Carte

La Démonstration de Poker de Dai Vernon

Card of the Gods

La Version de Dai Vernon du "Tour d'As de Henry Christ"

Lecture de Pensée

Le Compte est Bon

Le Tour Impossible à Expliquer

Swivellerro

Le Faux Mélange à Dégagement

Comment Forcer une Carte

De l'Emploi à la Carte Courte


Format : 16,5 x 23,5 cm - Illustré - 172 pages.




Volver al catálogo
Este artículo ya no se vende en Magicaplanet