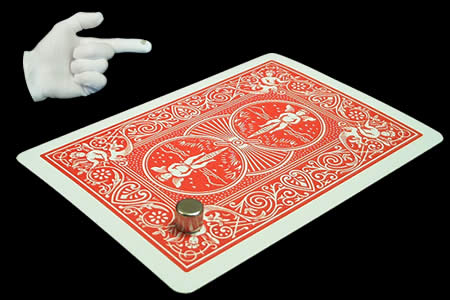 Description
L'aimant est l'accessoire indispensable du magicien un peu bricoleur : il se dissimule dans vos habits, sous une table ou mieux dans un FP et permet d'améliorer de nombreuses routines de télépathie, cartes, pièces,...
Les aimants en néodyme sont ce que le marché offre aujourd'hui de plus technologique avancé. Le Néodyme développe une puissance jusqu'à 10 fois supérieure par rapport aux matériaux magnétiques traditionnels.
Dimensions :
- Diamètre : 6 mm
- Epaisseur : 5 mm

Aimant en Néodyme - Samarium Cobalt
Du point de vue technologique, les aimants en terres rares (Samarium Cobalt, Néodyme-Fer-Bore) sont les produits les plus avancés que le marché puisse offrir.
Return to the catalogue


We advise you with this product :
1.
Magnetic Magic
30 €

2.
Wizard PK Ring - Gold (18 mm)
34.5 €

3.
BICYCLE Magnetic Card
8 €