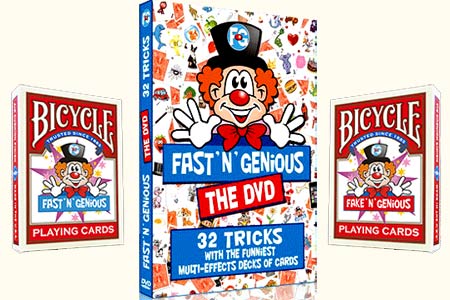 Description
You will receive two decks and the DVD.
Each of the 55 cards in these two decks have a unique full color illustration. Missing from this deck are numbers and standard pips (Spade, Heart, Diamond and Club), this allows you to perform all the classic card routines for kids. These decks have worldwide appeal since they have no printed words on the cards. The high quality and funny illustrations combined with your imagination will allow you to produce countless stories for your favorite routines.
Featuring traditional Rider backs in red, these decks are made in the USA at The United States Playing Card Company on quality stock with a premium finish.

Return to the catalogue


The items from this "Magic Set"
1.
Fast'n'Genious Bicycle Deck
15 €

2.
Fake'n'Genious Bicycle Deck
25 €

3.
DVD Fast'n'Genious
20 €