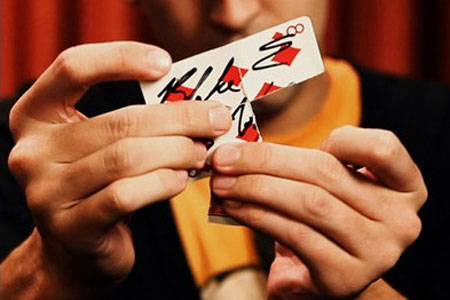 Description
Une version de carte déchirée et reconstituée complètement impromptue réalisable dans n'importe quelle condition sans carte duplicata, empalmage ou aimant... un vrai miracle !
Le jeu de cartes utilisé est normal, la carte est choisie librement par un spectateur et peut être signée sur sa face, son dos ou les deux ! Dans cette version de Blake Vogt vous n'utiliserez aucun carte duplicata, pas d'empalmage, ni aimant et pourtant, en étant complètement entouré vous allez réaliser un véritable miracle. Une version moderne de la carte déchirée et reconstituée...
La carte est clairement déchirée en 4 morceaux distincts, la restauration se fait morceau par morceau et le tour ne repose que sur de la technique. Au final, vous déchirez de nouveau la carte et demandez au spectateur de tenter de faire de même, ce qui bien évidemment est totalement impossible pour lui !
Vous pouvez être complètement entouré
Vous n'utilisez ni carte gimmick, ni duplicata, ni aimant
Vous n'avez rien à cacher, ni à empalmer
Le choix est libre, le jeu est normal
Totalement impromptu
Durée du DVD : 38 minutes (environ)
DVD explicatif en Anglais, facilement compréhensible avec les images
Une création signée Blake Vogt et Theory11

Return to the catalogue


We advise you with this product :
1.
Rubber Cement
8.5 €