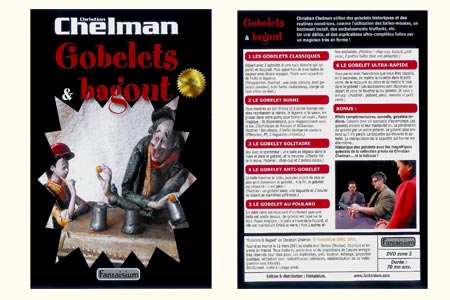 Description
Christian Chelman utilise des gobelets historiques et des routines novatrices, comme l'utilisation des balles- mousse, un boniment incisif, des enchaînements bluffants, etc. Un vrai délice, et des explications ultra-complètes faites par un magicien très en forme !



Au Sommaire :

1 LES GOBELETS CLASSIQUES
Départ avec 3 gobelets et une balle blanche qui apparaît et disparaît. Puis apparition de trois balles de couleur avec divers voyages. Finale avec apparition de fruits et légumes. (Décapitation. Matériel : une balle blanche, trois gobelets standard, trois balles multicolores, charge de type citron ou kiwi.)
2 LE GOBELET SUSHI
Vous montrez un bol chinois et 3 balles-éponge censées représenter la viande, le légume et la sauce, les glissez dans votre poing pour former un sushi… Passe magique : ils disparaissent, puis réapparaissent sous le bol. (Techniques de Rezvani et Williamson. Matériel : bol chinois, 3 balles éponge de couleurs différentes, FP, 2 baguettes chinoises.)
3 LE GOBELET SOLITAIRE
Jeu avec le spectateur : une balle se déplace dans la main et dans le gobelet, et le traverse. (Charlie Miller's move. Matériel : chop-cup et 2 petites balles.)
4 LE GOBELET ANTI-GOBELET
La balle traverse la table, puis des objets de plus en plus gros traversent le gobelet… A la fin, le gobelet est retourné : il est plein ! (Matériel : un gobelet plein, une baguette et 3 boules de billard de diamètres différents.)
5 LE GOBELET AU FOULARD
Un petit verre est recouvert d'un foulard puis une balle est posée dessus. Un gobelet est posé sur le tout. Passe magique : la balle a traversé le foulard, et elle est maintenant DANS le verre ! Puis 2 autres effets enchaînés. (Matériel : chop-cup, foulard, petit verre, 2 petites balles dont une aimantée.)
6 LE GOBELET ULTRA-RAPIDE
Vous pariez avec l'assistance que vous êtes capable, en 5 secondes, de mettre la noisette dans le petit verre, de le recouvrir du jeton et de mettre le tout dans le gobelet ! Les accessoires sont dispersés au départ et vous ne touchez qu'au gobelet. Et vous y arrivez ! (Matériel : gobelet, jeton, noisette et petit verre.)
BONUS :
Effets complémentaires, conseils, gobelets indiens. Conseils pour un spectacle d'escamoteur. Les gobelets indiens et leur manipulation. La pénétration du gobelet par un autre gobelet. Le gobelet plus profond qu'il n'y paraît. La baguette qui traverse le gobelet. La manipulation de la baguette qui tourne sur elle-même… Historique des gobelets avec les magnifiques gobelets de la collection privée de Christian Chelman… et le bêtisier !
DVD en Français
Très complet
Très bien détaillé
Durée : 70 minutes environ

Return to the catalogue




We advise you with this product :
3.
Goshman super-soft 2'' Balls
10 €