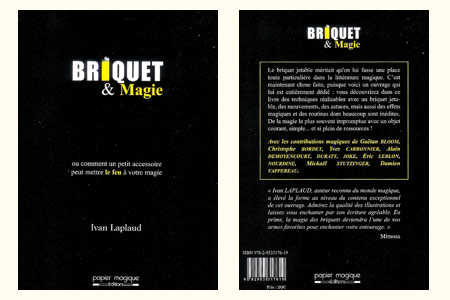 Description
Le briquet jetable méritait qu'on lui fasse une place toute particulière dans la littérature magique. C'est maintenant chose faite, puisque voici un ouvrage qui lui est entièrement dédié. Vous découvrirez dans ce livre des techniques propres au briquet jetable, des mouvements, des astuces, ainsi que des effets magiques et des routines dont beaucoup sont inédites.
Une magie le plus souvent impromptue avec un objet courant, simple, et si plein de ressources !
Avec les contributions magiques de Gaëtan BLOOM, Christophe BORDET, Yves CARBONNIER, Alain DEMOYENCOURT, DURATY, JOKE, Eric LEBLON, NOURDINE, Mickaël STUTZINGER, Damien VAPPEREAU.



Au Sommaire :

- Techniques et autres stratagèmes :
Le paddle move
Le master twist
Le retournement dans le poing
Le sleeving du briquet
Le tirage au briquet
Un briquet toujours disponible
Illusion sonore
- Tours et autres effets magiques :
Production infinie
L'apparition du briquet
Le tour du briquet
Apparition d'une pièce au briquet
La pièce dans la flamme
Tout feu tout flamme
La casserole aux souhaits
Papier en billet
Prologue
Bon appétit
La flamme au bout des doigts
Apparition flash
Carte transfert
Salade light
Briquet twist
Cigarette et briquet
Étincelles
Le briquet à 4 couleurs
- Curiosités et autres Facéties :
Le briquet sous la bouteille
Une flamme gigantesque
Le feu dans la main
Chez le marchand :
Tours commercialisés
Livre en Français
116 pages illustrées
Reliure dos carré
Couverture quadrichromie 260 g pelliculage brillant

Return to the catalogue




We advise you with this product :
1.
DVD No smoking (JL.Bertrand)
45 €