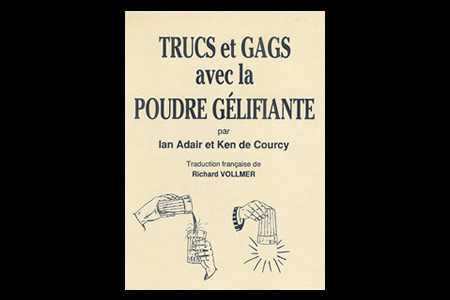 Description
Livre sur la poudre gélifiante.
Il s'agit d'une poudre magique qui solidifie tout liquide de manière instantanée.
Cette étonnante propriété de gélification est le point de départ de toute une série de tours, de gags, d'expériences et de trucs tous plus insolites les uns que les autres.
Vous pourrez exploiter toutes les mutiples possibilités de cette poudre pour réaliser des tours bluffants et méconnus.
AU SOMMAIRE :
Mode d'emploi
L'entonnoir
Equilibre précaire
Chocolat glacé
Chapeau !
Nettoyge à sec
Volatilisé
Aquatube
La cafetière cannadienne
Le vieux gag du seau d'eau
La marionnete à soif
La disparition d'un bol rempli d'eau
Disparition d'un liquide dans un sac en papier
Super pénétration de liquide
Le liquide dans le journal
Equilibre sur les mains
Le liquide qui change de couleur
Un tour avec le verre Okito
Transformation instantanée d'un liquide rouge en foulard
La rose
Le liquide qui disparaît en main
La casserole aux colombes
Hydro-solide !
Il y a du tirage !
La marionnette à soif !
'Je vois double !'
25 effets simples et efficaces

Livre largement illustré



Livre de 23 pages. Dimensions : 17*23.5 cm

Return to the catalogue




We advise you with this product :
1.
Mini Gelling Powder
2 €

2.
Lightning Gel
10 €