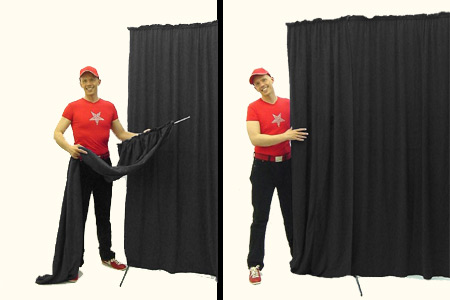 Description
Ces extensions de qualité présentent une solution rapide et économique pour augmenter la taille de votre fond de scène Spider Evoflex de 50 cm par côté, soit un gain d'un mètre de large.
Elles peuvent également servir à cacher les côtés de votre rideau, et les plaçant perpendiculairement à votre pan de rideaux évoflex. Ceci vous permettra par exemple de vous changer derrière les rideaux, en toute sérénité, sans être vu du public. De plus, leur faible encombrement, une fois repliées, vous permettront de les glisser dans le sac de transport, initialement reçu, avec votre fond de scène Evoflex.
aux normes européennes de sécurité
Certificat livré avec
Très haute qualité de matériel
Fabrication Allemande
S'installent en 30 secondes
Se transporte dans le même sac de sport que votre Evoflex
Couleurs disponibles en magasin : noir, rouge bordeaux
2 autres couleurs disponibles sous 3 semaines de délai maximum
Dimensions d'une extension : 2.2 m x 50 cm
Couleur disponible immédiatement
: Noir, rouge bordeaux
Couleurs disponibles sous 3 semaines de délais maximum
: Bleu marine, Bleu roi.

Return to the catalogue


We advise you with this product :
1.
Curtains of scene Spider Evoflex
899 €