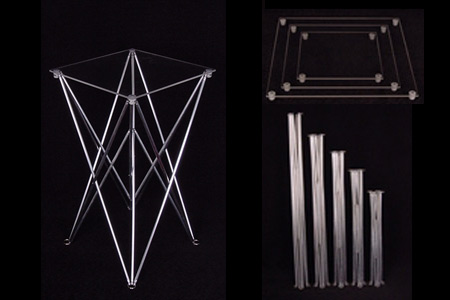 Description
La première des choses à noter est que
visuellement, ce guéridon est clean car il est transparent
. En effet, le public voit à travers et ne peut pas soupçonner un quelconque objet caché derrière celui-ci.
Ensuite, le système de
pliage en toile d'araignée
rend cette table très pratique car elle est
légère et peu encombrante
. Idéal pour transporter à toutes vos représentations.
Il faut savoir que des housses de protection sont également disponibles à la vente (disponible dans notre boutique) afin de ne pas abîmer votre matériel lors du transport.
Le transport se fait en deux parties : pied d'un côté et plateau de l'autre.
L'
assemblage est ultra rapide
, et le pliage également.
Finie l'ère des vieux guéridons lourds et encombrants !!!
Système ingénieux et sophistiqué
Fabrication allemande
Qualité Spider
Plateau en acrylique
avec des bouchons en caoutchouc
Housses vendues séparément
Taille du plateau
: 40 x 40cm
Longueur du châssis en aluminium replié : 78 cm
Hauteur de la table dépliée : 72 cm
Poids total : 2,1 kg

Return to the catalogue




The items from this "Magic Set"
We advise you with this product :