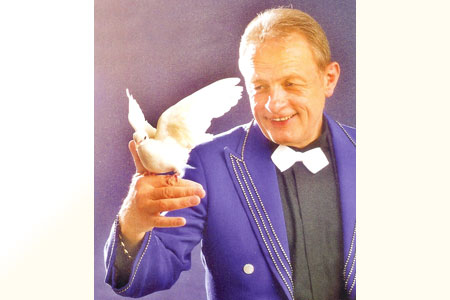 Description
L'excellent Alban William à créé un
harnais
à colombes que vous allez adorer puisqu'il est automatique. C'est-à-dire que celui-ci va
s'ouvrir tout seul
et la colombe va s'échapper lorsqu'on le désire.
Cet harnais révolutionnaire va vous
faciliter considérablement vos productions
de colombes, en effet, un mécanisme très bien étudié va faire en sorte qu'en un claquement de doigt, le harnais va s'ouvrir de lui-même et
libérer entièrement
votre colombe.
Vous pourrez vous en servir de
deux façons différentes :
Premièrement, vous pourrez l'utiliser comme
harnais semi automatique
, c'est à dire que vous le sortez de la veste et d'un mouvement de doigt votre harnais s'ouvre entièrement tout seul (production avec un
temps d'arrêt
).
Mais il vous sera également possible de l'utiliser comme
harnais automatique
, ce qui vous permettra de produire une colombe sans temps d'arrêt en tirant de la veste (le harnais s'ouvre dès que vous le sortez de la veste :
production flash
).
Grâce à l'ingéniosité d'Alban, plus besoin de perdre du temps à ouvrir les boutons pressions d'un modèle classique. Ce nouvel outil va rendre vos apparitions de colombes encore
plus magiques…
S'ouvre instantanément
2 utilisations : ouverture au doigt (semi –automatique), ou ouverture automatique en tirant de la veste
Existe en 4 couleurs : Rouge, bleu, noir ou blanc

Return to the catalogue


We advise you with this product :
1.
Dove Loop Holder
9 €

2.
Dove from a newspaper
26 €

3.
Fake Sponge Dove
28.5 €