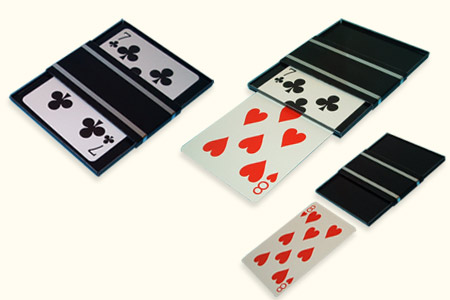 Description
Le magicien fait choisir une carte à un spectateur, celle-ci est perdue dans le jeu après l'avoir mélangé. Il éventaille ensuite le jeu face en bas et sélectionne une seule carte, sans la retourner, qu'il assure être la carte du spectateur, qu'il place dans une sorte de cadre noir.
Personne n'a encore connaissance de la valeur de la carte que le magicien vient de placer dans le cadre. Lorsqu'il retourne le cadre, les spectateurs se rendent compte que la carte n'est pas celle qui a été choisie. Le magicien, sûr de lui, demande au spectateur de lui révéler sa carte. Le magicien rigole et affirme que la carte qui se trouve à l'intérieur du cadre est bien la bonne mais qu'elle donne l'illusion de ne pas l'être.
C'est alors qu'un événement incroyable se produit : le magicien prend le cadre et fait glisser la carte afin de la faire tomber dans sa main, en même temps que cette carte sort du cadre, elle
change de valeur à vue d'œil
!
L'effet est extrêmement visuel !
Vous ne pourrez plus vous séparer de cet
outil miraculeux
et si
peu encombrant…
Effet renversant
Change de carte à vue
Très visuel
Idéal pour le close up
Facile à réaliser
D'autres effets possibles avec ce cadre comme une apparition flash d'une carte à l'intérieur

Return to the catalogue


We advise you with this product :
1.
Light Card
12.5 €