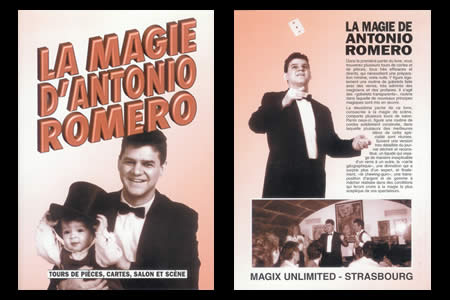 Description
Vous trouverez dans une première partie plusieurs tours de cartes et de pièces, tous très efficaces et directs. Vient ensuite une routine fort surprenante de gobelets transparents impliquant de nouveaux principes. Puis le livre propose ensuite quelques tours de scène dont quelques uns sont également réalisables en salon. De nombreux tours originaux.
Un petit avant goût :
Le poisson :
Le magicien jette l'extrémité d'une corde dans le public en mimant une partie de pêche. Tout à coup un poisson apparaît au bout de la corde.
Le journal :
un journal est déchiré et reconstitué avec une touche d'ingéniosité qui rend le dépliage final plus sûr et réduit les angles.
AU SOMMAIRE :
Tours de pièces.
Le yin et le yang.

An-Ping-Tonio-Chien.

De l'argent, de l'argent, de l'argent et encore de l'argent.

Tours de cartes.
Apparition lancée.

Interlude chromatique.

Apparition hélicoptère.

Trois en une.

Magicien contre tricheur.

Les as japonais.

Poussinmania.

Les gobelets transparents.
Tours de scène.
La corde.

Le journal.

Le liquide.

La carte géographique.

Le chewing-gum.

Le fakir.

Le poisson.

Les livres


Avantages

Une grande variété de tours.

Un grand sens du détail.

De nombreuses illustrations et schémas explicatifs.

Pour tout magicien.


Langue : Français. Format : 16,5 x 23,5 cm. 130 pages illustrées.




Return to the catalogue




We advise you with this product :
1.
Card Kabuki (Antonio Romero)
34 €

2.
Perfect Hold Out
260 €

3.
Laminated
55 €