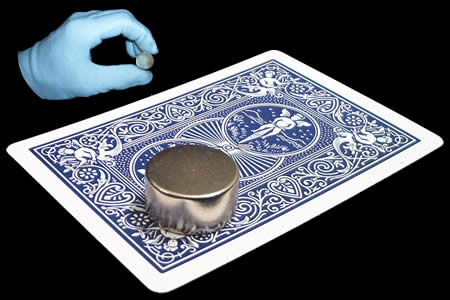 Description
Si vous avez l'intention de fabriquer votre guéridon volant, ce type d'aimant sera idéal pour le faire voler simplement avec la main (Bague aimanté).
Il est
dissimulable aussi bien dans un jeu de carte que dans un paquet de cigarette
ce qui vous permettra de passer complètement inaperçu aux yeux des spectateurs.
Ce fabuleux aimant de 20 mm de diamètre et 10 mm d'épaisseur est
en néodyme un matériaux magnétiquement très puissant.


Sa taille suffira pour soulever un grands nombres d'objets métalliques comme une cuillère et d'autres objets pouvant aller jusqu'à 600g.
Dimensions :
- Diamètre : 20 mm.
- Epaisseur : 10 mm.

Return to the catalogue


We advise you with this product :
1.
Magnetic Magic
30 €

2.
Wizard PK Ring - Gold (18 mm)
34.5 €

3.
BICYCLE Magnetic Card
8 €