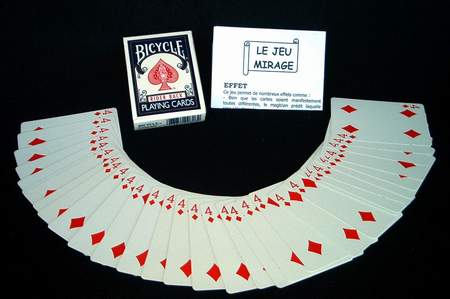 Description
Parmi les multiples utilisations du jeu radio, voici quelques exemples d'effets.
Le jeu est effeuillé pour montrer que toutes les cartes sont différentes.
Vous soufflez dessus : toutes les cartes sont identiques.
Le jeu radio se distingue du jeu Svengali par le Roughing fluid appliqué sur les cartes.
Jeu Bicycle


Format poker


Disponible en bleu ou en rouge.

Return to the catalogue


You can find this magic item in :
1.
Thumb tip Set!
45 €

2.
Budding magician 2
72 €

We advise you with this product :