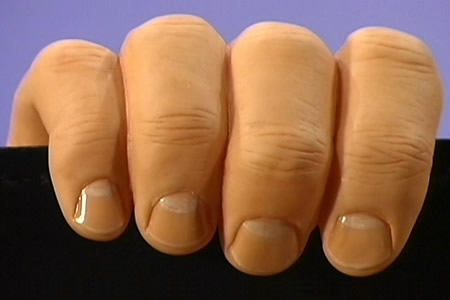 Description
Grâce à ce gimmick vous pourrez faire autant de lévitation différente que vous le voudrez, tout dépend de votre imagination !!!
Handz-up est en fait une troisième main d'excellente qualité, vous pouvez la comprimer, la tordre sans problèmes… Elle est la reproduction la plus parfaite d'une main ! Fabrication parfaite, très réaliste, toucher semblable à la peau, une reproduction parfaite des empreintes, de l'articulation, des vaisseaux sanguins, un léger vernis des ongles…
Mais à quoi peut servir une troisième main ?
Imaginez que vous tenez un journal, un foulard, une veste dans vos mains ou plutôt avec une de vos mains car la seconde est en fait Handz-up. Il vous reste, à l'insu du public, une main de libre pour effectuer des quantités d'effets magiques : lévitations, déplacements d'objet…
Ces effets ont été réalisés par les plus grands !
Dès que l'on oublie qu'une des deux mains est fausse, tout miracles ne sera pour vous que simple formalité !!!
L'objet se « clipse » très facilement où vous le désirez et se déclipse pour pouvoir changer d'objet en cours de numéros !!!
Quelques exemples d'utilisation :
Le mieux est de voir les différentes applications sur les photos …
lévitation d'une bouteille

pied de micro

main vivante

stylo flottant sur son bloc note …

De plus il est très discret, vous pouvez facilement le gardez sur vous toute la journée pour être près dès que l'on vous le demande !


Aussi bien en salon que sur scène.

Prêt à tout moment.




Return to the catalogue


We advise you with this product :
1.
Les Trucages du Corps
100 €