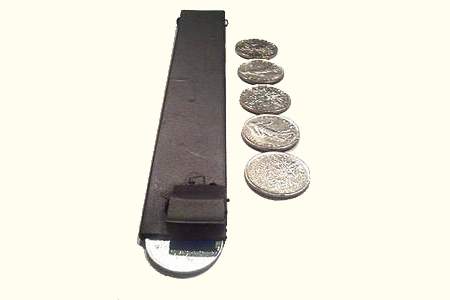 Description
A single pressure free a coin.
Capacity : 6 coins max.

Perfect for 2 €uro coins, it works with 5 francs or 1/2 dollars too.

Dimensions : 10 cm (4").

you can hang it where you want.

Ce chargeur est des plus discrets, il se cachera aisément sous votre veste et vous délivrera les pièces sans bruit, n'éveillant ainsi aucun soupçon.
Return to the catalogue


We advise you with this product :
1.
Half Dollar Coin (Unit)
3 €

2.
Dvd 'Basic Coin Magic Vol.1'
34 €