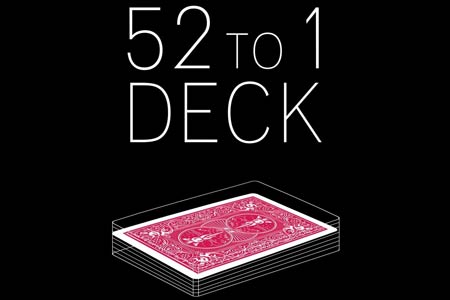 Description
Le jeu 52 to 1 a été créé par Wayne Fox et David Penn.
Ce tour magnifique a été salué par les meilleurs artistes, créateurs et érudits de la communauté magique comme la routine de carte pensée la plus pure qui n'ai jamais été présentée !
Dans le milieu magique, le bruit courrait, tous en parlaient, beaucoup ont vu ce miracle par eux-mêmes. Même des mentalistes tels que Ran Pink, Chris Funk et Bobby Motta ne pouvaient pas en croire leurs yeux !
De nombreux effets sont possibles avec le jeu 52 to 1 comme par exemple :
- Vous étalez le jeu en montrant clairement que toutes les cartes sont normales. Un spectateur pense à une carte. Ils ne vous disent jamais leur carte et pourtant ils coupent le jeu eux-mêmes, juste à leur carte choisie !
- Après avoir montré que les cartes sont clairement toutes différentes, deux spectateurs différents sont invités à penser à une carte. Sans qu'ils vous disent leurs cartes, vous retirez simplement deux cartes du paquet et les placez sur leurs paumes tendues. Vous avez juste !
- Dans un cabaret ou une routine de scène, les spectateurs sont invités à regarder plusieurs cartes dans un ruban étalé. Même si toutes les cartes sont complètement différentes, chacune des pensées des cartes est identifiée par l'interprète.
- Utilisez le fabuleux jeu 52 to 1 pour prouver que vous pouvez mémoriser un jeu de cartes en quelques secondes! Après que quelqu'un nomme une carte, vous serez instantanément en mesure de leur dire la position exacte dans le jeu et coupez-le parfaitement sur cette carte. Ceci est également répétable immédiatement.
Incroyable routine de mentalisme
Très fort impact
Très visuel
Jeu special en Bicycle standard rouge ou bleu
Créé par David Penn et Wayne Fox
Lien vidéo d'explications en anglais + lien vidéo bonus en français créé par nos soins (que vous pourrez retrouver sur votre compte client après achat.

Retour au catalogue