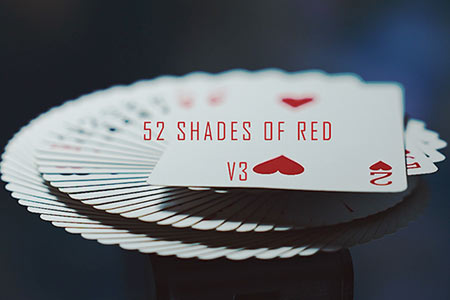 Description
Regardez la bande-annonce, et vous n'en croirez pas vos yeux. Vous aussi, vous pouvez accomplir ces miracles étonnants après avoir appris les secrets de Shin Lim.

En 2017, Shin Lim est apparu pour la deuxième fois sur l'émission américaine "Penn & Teller: Fool Us". Seuls quelques magiciens sélectionnés ont trompé Penn et Teller, mais Shin a réussi à les tromper une seconde fois, avec 52 Shades of Red.

Ceci est le troisième volet du concept 52 Shades of Red.

Vous recevrez :
- Le jeu gaff spécial 52 Shades of Red V3
- Des cartes gaff en extra qui vous permettent d'effectuer les effets vus dans la bande-annonce.
- Un lien vidéo d'enseignement en anglais guidée par Shin Lim, plus de 120 minutes d'explications.

En plus de dévoiler ses secrets techniques, Shin vous parlera de détournement d'attention, d'ombres et lumières, de timing et de mouvement. Shin ne laisse aucune pierre au hasard, et vous enseigne son numéro dans son intégralité.

Attention : pour effectuer la routine originale de 52 Shades of Red et utiliser ses techniques vous aurez un peu de fabrication et d'assemblage à réaliser. Ce n'est pas livré prêt à l'emploi. Shin vous donne ses armes à vous de vous les approprier.


Lien vidéo en anglais
Cartes spéciales et jeu fourni
Procurez-vous du tissu noir en velours écrasé
Vous aurez également besoin de bon ciseaux et colle
Techniques et outils géniaux vous sont dévoilés
Retour au catalogue