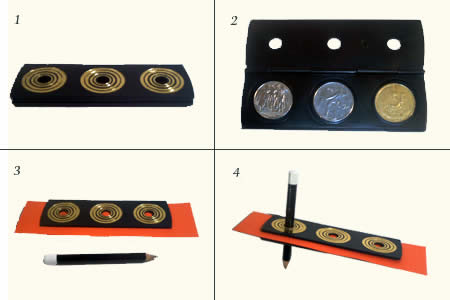 Description
Cette version collector comporte deux choses que le jeu normal n'a pas :
1- Il est livré dans une
belle boite de protection transparente butterfly
aussi élégante que robuste : elle est en PVC très solide et se referme par un système d'aimants efficace. Ainsi vous n'abimerez jamais votre jeu précieux.
2- L'arrière de l'étui est
signé et numéroté au feutre (à la main) par son créateur Ondrej Psenicka
. Un autographe en très peu d'exemplaires : 500 dans le monde.
Ce jeu est un succés mondial, une révolution : un nouveau système de marquage qui va faire évoluer vos routines...
Imaginez que vous donniez le jeu à mélanger, puis vous le reprenez en main. Demandez à un spectateur de nommer une carte, coupez le jeu... exactement sur sa carte.
Le système de marquage unique caché dans les dos du jeu Butterfly contient deux types de marquages différents pouvant être utilisés séparément : un marquage simple et un double. Ils vous permettront de réaliser de vrais miracles autant en les utilisant séparément qu'en les combinant. Voici quelques effets que vous pourrez accomplir grâce à ce magnifique jeu :
Impossible Divination
: Les cartes sont mélangées par le spectateur qui en sélectionne une sans regarder. Les cartes sont aussitôt mélangées par le spectateur. Vous reprenez les cartes, et sans les regarder, sans les étaler, vous nommez instantanément la sélection.
Knowing the Missing Card
: Les cartes sont mélangées par le spectateur. Il les place dans son dos, retire une carte du jeu et la cache dans sa poche. Personne, pas même le spectateur, ne connaît la carte en poche. Les cartes sont encore mélangées avant d'être rendues au magicien. Vous devinez l'identité de la sélection en quelques secondes, sans regarder les cartes ni même les étaler.
Cutting To Any Card Called For
: Les cartes sont mélangées par le spectateur. Il nomme n'importe quelle carte, vous êtes instantanément capable de couper dessus !
Jeu numéroté et signé à la main par son créateur
Livré dans une belle boite de protection
Utilisation du jeu simple, logique et rapide
Facile à apprendre
Vidéo explicative en anglais de 53 minutes

Retour au catalogue