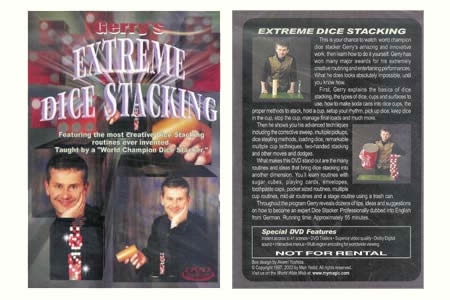 Description
Voici votre chance d'observer et d'apprendre le travail surprenant et innovant du champion du monde de manipulation de dés :
Gerry
.Il a obtenu beaucoup de récompenses pour ses performances extrêmement créatives. Ce qu'il fait paraît absolument impossible, jusqu'à ce que vous connaissiez la technique.
AU SOMMAIRE :
First Gerry explains
The basics of dice stalking
The types of dice
Cups and surfaces ti use
How to make soda cans into dice cups
The proper method to stack
Hold a cup
Setup your rythm
Pick up dice
Keep dice in the cup
Manage final loads
and much more.
Then he shows you his advanced techniques incjuding :
The corrective sweep
Multiple pickups
Dice stealing methods
Loading dice
Remarkable multiple cup technique
Two-handing stacking
and other moves and dodges.
Les routines et idées qui amènent la manipulation de dés dans une autre dimension font sortir de DVD du lot. Vous apprendrez des routines avec des carrés de sucre, des cartes, des enveloppes, des tubes de dentifrice…
A travers ce répertoire,
Gerry
révèle des dizaines de trucs, idées et suggestions qui vous aideront à devenir un expert dans la manipulation de dés.
Langue :
anglais – Multi-région

Retour au catalogue
Cet article n'est
plus vendu sur Magicaplanet