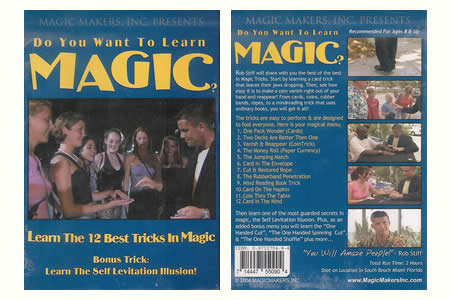 Description
Rob Stiff
va partager avec vous ce qu'il y a de meilleur en magie.
Commencez par un tour de carte qui va laisser votre audience sans voix.
Voyez ensuite comme il est facile de faire disparaitre et réapparaître une piéce de votre main !
Des tours de cartes, de piéces, de cordes jusqu'aux tours de mentalisme qui utilisent des livres ordinaires, ils y sont tous !
Les tours sont simples à éxécuter, et ont étés crées pour éppater tout le monde.
SOMMAIRE :
One Pack Wonder (cartes).

Two Decks Are Better Than One.

Vanish And Reappear (tour de piéces).

The Money Roll (tour avec de l'argent).

The Jumping Match.

Card In The Envelope.

Cut And restored Rope.

The Rubberband Penetration.

Mindreading Book Trick.

Card On The Napkin.

Coin Thru The Table.

Card In The Mind.


Et étudiez ensuite un des secret les plus jalousement gardé en magie : vous allez léviter.
De plus, en bonus vous pourrez étudier"One Handed Cut", The One Handed Spinning Cut", ainsi que "The One Handed Shuffle", et bien d'autres encore...

Durée : 2 heures.
Dvd Anglais.
Retour au catalogue
Cet article n'est
plus vendu sur Magicaplanet